MANCHESTER UNITED HOME KIT 2020/2021
SIZE GUIDE
INCHES

PRODUCT  LABEL

XS

S

M

L

XL

2XL

3XL

CHEST

31 – 33

34 – 37

37 – 40

40 – 44

44 – 48

48 – 52

53 – 58

WAIST

27 – 29

30 – 32

32 – 35

35 – 39

39 – 43

43 – 47

48 – 53

HIP

32 – 34

35 – 37

37 – 40

40 – 44

44 – 48

48 – 51

51 – 56

CENTIMETRES

PRODUCT  LABEL

XS

S

M

L

XL

2XL

3XL

CHEST

79 – 84

86 – 94

94 – 102

102 – 112

112 – 122

122 – 132

135 – 147

WAIST

69 – 74

76 – 81

81 – 89

89 – 99

99 – 109

109 – 119

119 – 135

HIP

81 – 86

89 – 94

94 – 102

102 – 112

112 – 122

122 – 130

130 – 142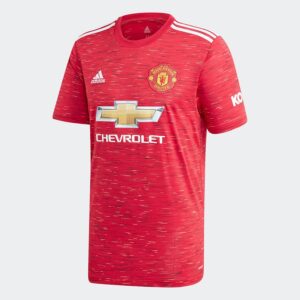 Manchester United Home Kit 2020/2021
The Adidas Manchester United 20-21 home shirt is predominantly red with white logos. The 3 Stripes, placed on the shoulders of the shirt, are also white.

As expected, a black-and-yellow stripe graphic appears all-over the Manchester United 2020-21 home jersey – although it's application is much less jarring than initially feared.

The stripes of the Manchester United 20-21 kit pattern are aligned horizontally and have a much more subtle overall appearance, almost meshing with the red base to create a melange effect.

Unique shorts and socks complete the new Man Utd 2020-21 kit – the Three Stripes of the shorts have the yarn-stitched pattern, while the socks also have a graphic effect. The primary choice for shorts for Manchester United's new 2020-2021 home strip is white, the socks are black.
SPECIFICATIONS
Regular fit

Ribbed crewneck

100% recycled polyester jacquard

Manchester United woven crest

Imported

Product color: Real Red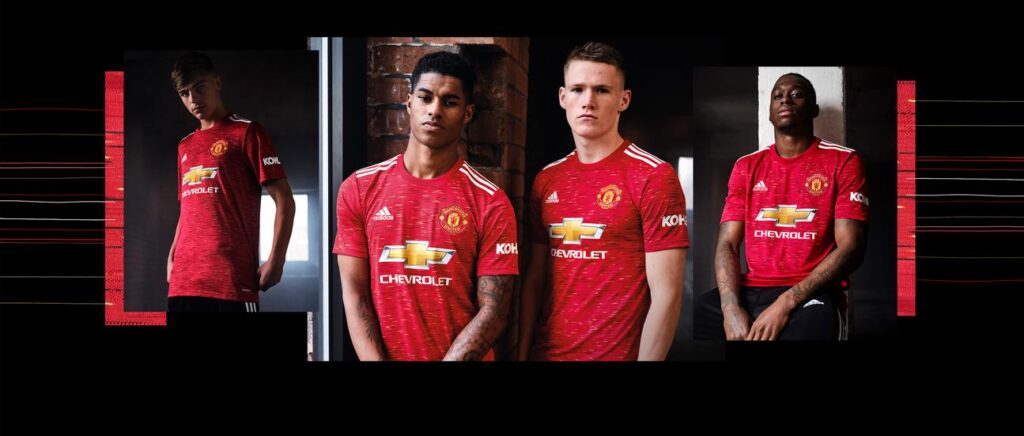 Club Football Teams – Men's Kits and Jerseys
National Football Teams – Men's Kits and Jerseys