ATLETICO MADRID HOME KIT 2020/2021
SIZE GUIDE
INCHES

PRODUCT  LABEL

S

M

L

XL

2XL

3XL

CHEST

35 – 37.5

37.5 – 41

41 – 44

44 – 48.5

48.5 – 53.5

53.5 – 58

WAIST

29 – 32

32 – 35

35 – 38

38 – 43

43 – 47.5

47.5 – 52.5

HIP

35 – 37.5

37.5 – 41

41 – 44

44 – 47

47 – 50.5

50.5 – 53.5

CENTIMETRES

PRODUCT  LABEL

S

M

L

XL

2XL

3XL

CHEST

88 – 96

96 – 104

104 – 112

112 – 124

124 – 136

136 – 148

WAIST

73 – 81

81 – 89

89 – 97

97 – 109

109 – 121

121 – 133

HIP

88 – 96

96 – 104

104 – 112

112 – 120

120 – 128

128 –136

Atletico Madrid Home Kit 2020/2021
After this year's very regular home shirt design, Atlético's new 2020-21 home jersey brings something new to the table: brushstroke stripes.

There are five red and four white stripes on the front of the Nike Atlético 2020-21 home shirt, with the latter being of a smaller width than the former. The stripes continue onto the sleeves, while the back is predominantly red.

A classic collar is used on the Atletico Madrid 20-21 home kit. It's dark blue, matching the color of the sleeve cuffs and the Nike logo.
SPECIFICATIONS
Standard fit for a relaxed, easy feel.

100% recycled polyester.

Machine wach.

Imported.

Colour Shown: Sport Red/Midnight Navy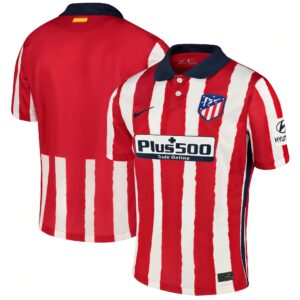 Club Football Teams – Men's Kits and Jerseys
National Football Teams – Men's Kits and Jerseys