INTER MILAN AWAY KIT 2020/2021
SIZE GUIDE
INCHES

PRODUCT  LABEL

S

M

L

XL

2XL

3XL

CHEST

35 – 37.5

37.5 – 41

41 – 44

44 – 48.5

48.5 – 53.5

53.5 – 58

WAIST

29 – 32

32 – 35

35 – 38

38 – 43

43 – 47.5

47.5 – 52.5

HIP

35 – 37.5

37.5 – 41

41 – 44

44 – 47

47 – 50.5

50.5 – 53.5

CENTIMETRES

PRODUCT  LABEL

S

M

L

XL

2XL

3XL

CHEST

88 – 96

96 – 104

104 – 112

112 – 124

124 – 136

136 – 148

WAIST

73 – 81

81 – 89

89 – 97

97 – 109

109 – 121

121 – 133

HIP

88 – 96

96 – 104

104 – 112

112 – 120

120 – 128

128 –136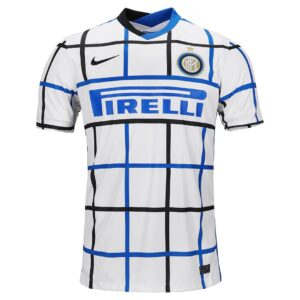 Inter Milan Away Kit 2020/2021
The Nike Inter 2020-2021 away shirt is predominantly white with a grid pattern in the club's principal colors black and blue.

This mixed color scheme extends to the sponsor and supplier logos – Nike is black while Pirelli is blue – as well as the collar, which is half blue and half black.

The back side of the Nike Inter Milan 20-21 away shirt is very interesting as well as the front design extends with dedicated spaces left free for the player names and numbers.

White shorts and socks round off the look of the new Inter Milan 2020-2021 away strip by Nike.
SPECIFICATIONS
Standard fit for a relaxed, easy feel.

100% recycled polyester.

Machine wach.

Imported.

Colour Shown: White/Black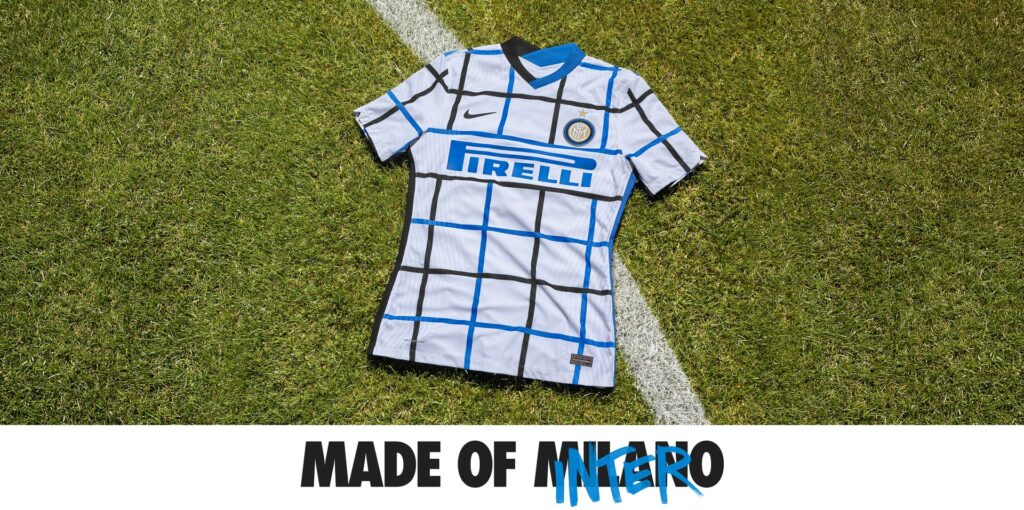 Club Football Teams – Men's Kits and Jerseys
National Football Teams – Men's Kits and Jerseys