Newell's Old Boys 93/94 Jersey – Messi, Maradona
SIZE GUIDE
INCHES

PRODUCT  LABEL

XS

S

M

L

XL

2XL

3XL

CHEST

31 – 33

34 – 37

37 – 40

40 – 44

44 – 48

48 – 52

53 – 58

WAIST

27 – 29

30 – 32

32 – 35

35 – 39

39 – 43

43 – 47

48 – 53

HIP

32 – 34

35 – 37

37 – 40

40 – 44

44 – 48

48 – 51

51 – 56

CENTIMETRES

PRODUCT  LABEL

XS

S

M

L

XL

2XL

3XL

CHEST

79 – 84

86 – 94

94 – 102

102 – 112

112 – 122

122 – 132

135 – 147

WAIST

69 – 74

76 – 81

81 – 89

89 – 99

99 – 109

109 – 119

119 – 135

HIP

81 – 86

89 – 94

94 – 102

102 – 112

112 – 122

122 – 130

130 – 142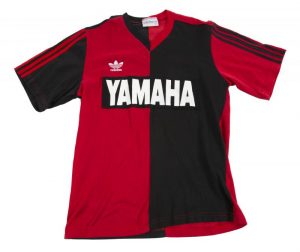 Newell's Old Boys 93/94 Jersey – Messi, Maradona
Lionel Messi paid tribute to the late Diego Maradona earlier today after he scored his team's fourth goal

against Osasuna.

Having scored a fantastic shot in the 73rd minute, Messi took of his Barcelona shirt and revealed that he had been wearing an old Maradona shirt underneath for the full game. He then celebrated by pointing his arms up and looking up at the sky.

The shirt worn by Messi was an actual old shirt that Maradona wore during his time at Messi's childhood club Newell's, for who Maradona played in the 1993-94 season.

An amazing tribute to one of the greatest players of all time, stay tuned for our upcoming article about how the football teams and players around the world paid homage to Diego Maradona this week.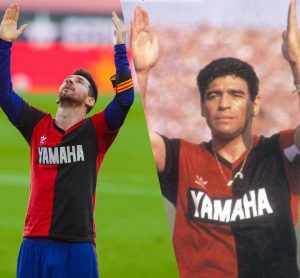 Club Football Teams – Men's Kits and Jerseys