BORUSSIA DORTMUND AWAY KIT 2020/2021
SIZE GUIDE
INCHES

PRODUCT  LABEL

XS

S

M

L

XL

2XL

3XL

CHEST

31 – 33

34 – 37

37 – 40

40 – 44

44 – 48

48 – 52

53 – 58

WAIST

27 – 29

30 – 32

32 – 35

35 – 39

39 – 43

43 – 47

48 – 53

HIP

32 – 34

35 – 37

37 – 40

40 – 44

44 – 48

48 – 51

51 – 56

CENTIMETRES

PRODUCT  LABEL

XS

S

M

L

XL

2XL

3XL

CHEST

79 – 84

86 – 94

94 – 102

102 – 112

112 – 122

122 – 132

135 – 147

WAIST

69 – 74

76 – 81

81 – 89

89 – 99

99 – 109

109 – 119

119 – 135

HIP

81 – 86

89 – 94

94 – 102

102 – 112

112 – 122

122 – 130

130 – 142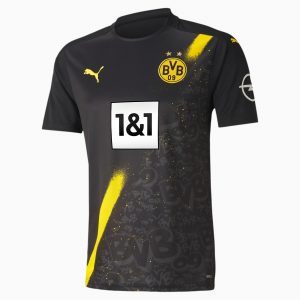 Borussia Dortmund Away Kit 20/21
The Puma Dortmund 2020-21 away shirt is predominantly black with yellow logos and trim.

What makes the Puma Borussia Dortmund 20/21 away kit stand out is its design or, more specifically, the pattern Puma has chosen for this one.

The Puma Borussia Dortmund 2020-2021 away football shirt boast a graphic print inspired by graffiti and street art.

There is a yellow stripe running from the upper left to the bottom right. The stripe is interruped for the sponsor logo.
SPECIFICATIONS
Regular fit

100% polyester

Short sleeves

Rib crewneck collar

PUMA Formstrip across shoulders and upper back

Color: Black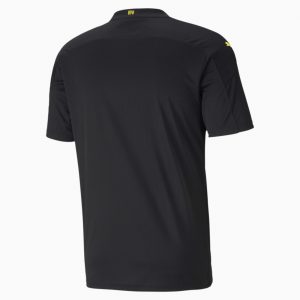 Club Football Teams – Men's Kits and Jerseys