BRAZIL HOME KIT 2020/2021 – COPA AMERICA 2021
SIZE GUIDE
INCHES

PRODUCT  LABEL

S

M

L

XL

2XL

3XL

CHEST

35 – 37.5

37.5 – 41

41 – 44

44 – 48.5

48.5 – 53.5

53.5 – 58

WAIST

29 – 32

32 – 35

35 – 38

38 – 43

43 – 47.5

47.5 – 52.5

HIP

35 – 37.5

37.5 – 41

41 – 44

44 – 47

47 – 50.5

50.5 – 53.5

CENTIMETRES

PRODUCT  LABEL

S

M

L

XL

2XL

3XL

CHEST

88 – 96

96 – 104

104 – 112

112 – 124

124 – 136

136 – 148

WAIST

73 – 81

81 – 89

89 – 97

97 – 109

109 – 121

121 – 133

HIP

88 – 96

96 – 104

104 – 112

112 – 120

120 – 128

128 –136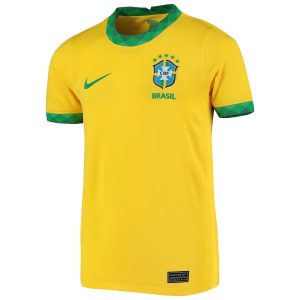 Brazil Home Kit 2020/2021
Brazil's Copa America 2021 home football kit is predominantly yellow, combined with green for the collar and cuffs. Celebrating the 50th anniversary of the 1970 World Cup win, the design of the Nike Brazil 2020/2021 home kit is inspired by the one worn during the World Cup half a century ago.

Although it's based on the new Nike template, which in turn is inspired by early 2000s Nike designs such as the 2002 template, the Brazil Copa America 2021 home jersey does not have zig-zag stripes on the side. Instead, the collar and sleeve cuffs of the shirt are green with a diamond graphic that's derived from the Brazilian flag on the inside.

The inner collar of the new Brazil 2020 home kit features a '70' graphic, further highlighting the 1970 World Cup kit inspiration.
SPECIFICATIONS
Standard fit for a relaxed, easy feel

100% polyester

Machine wash

Imported

Colour Shown: Midwest Gold/Lucky Green

Club Football Teams – Men's Kits and Jerseys
National Football Teams – Men's Kits and Jerseys