BRAZIL AWAY KIT 2020/2021 – COPA AMERICA 2021
SIZE GUIDE
INCHES

PRODUCT  LABEL

S

M

L

XL

2XL

3XL

CHEST

35 – 37.5

37.5 – 41

41 – 44

44 – 48.5

48.5 – 53.5

53.5 – 58

WAIST

29 – 32

32 – 35

35 – 38

38 – 43

43 – 47.5

47.5 – 52.5

HIP

35 – 37.5

37.5 – 41

41 – 44

44 – 47

47 – 50.5

50.5 – 53.5

CENTIMETRES

PRODUCT  LABEL

S

M

L

XL

2XL

3XL

CHEST

88 – 96

96 – 104

104 – 112

112 – 124

124 – 136

136 – 148

WAIST

73 – 81

81 – 89

89 – 97

97 – 109

109 – 121

121 – 133

HIP

88 – 96

96 – 104

104 – 112

112 – 120

120 – 128

128 –136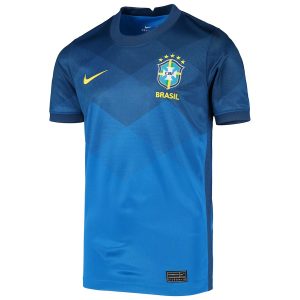 Brazil Away Kit 2020/2021
The latest Brazil kits celebrate the 50th Anniversary of the country's 1970 World Cup title. Their design inspirations are taken from the shirts worn by the likes of Pelé, Carlos Alberto and the rest of the Brazilian national team at México 70.

In similar fashion to the home kit, which features a flag-inspired graphic on the collar and sleeve cuffs, the Brazil 2020/2021 away kit boasts a flag-inspired gradient on the front and sleeves.

The lateral shapes, sleeve cuffs and the collar of the new Brazil 2020/2021 away shirt are colored in the darker shade of blue, which transitions towards a lighter shade of the color at the bottom of the shirt.
SPECIFICATIONS
Standard fit for a relaxed, easy feel

100% polyester

Machine wash

Imported

Colour Shown: Soar/Coastal Blue/Midwest Gold

Club Football Teams – Men's Kits and Jerseys
National Football Teams – Men's Kits and Jerseys