ICELAND HOME KIT 2020
SIZE GUIDE
INCHES

PRODUCT  LABEL

S

M

L

XL

2XL

3XL

CHEST

35 – 37.5

37.5 – 41

41 – 44

44 – 48.5

48.5 – 53.5

53.5 – 58

WAIST

29 – 32

32 – 35

35 – 38

38 – 43

43 – 47.5

47.5 – 52.5

HIP

35 – 37.5

37.5 – 41

41 – 44

44 – 47

47 – 50.5

50.5 – 53.5

CENTIMETRES

PRODUCT  LABEL

S

M

L

XL

2XL

3XL

CHEST

88 – 96

96 – 104

104 – 112

112 – 124

124 – 136

136 – 148

WAIST

73 – 81

81 – 89

89 – 97

97 – 109

109 – 121

121 – 133

HIP

88 – 96

96 – 104

104 – 112

112 – 120

120 – 128

128 –136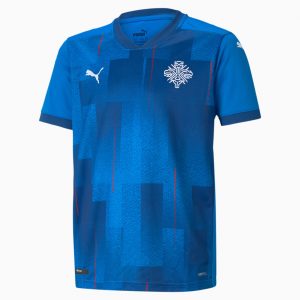 Iceland Home Kit 2020
The Puma Iceland 2020 home football shirt is of course predominantly blue (official name "Electric Blue Lemonade"), combined with white logos.

A graphic print covers the front of the Puma Iceland 2020 home shirt. It is inspired by Iceland's spectacular nature as well as the country flag and consists of geometrical shapes in dark blue that are combined with red vertical lines.

The team logo used on the Puma Iceland 2020-2021 home football shirt is new: it's an abstract symbol showing the four Landvættir ("land wights") of Iceland – the vulture, the giant, the dragon and the bull.
SPECIFICATIONS
Regular fit

V-neck collar

Short sleeves

Ribbed cuffs

100% Polyester

Colour: Electric Blue Lemonade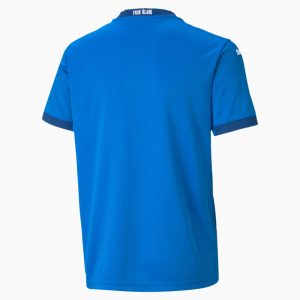 Club Football Teams – Men's Kits and Jerseys
National Football Teams – Men's Kits and Jerseys